I've noticed a few people making donations to S-C, and it's not always something we think of doing. After all, what's on the internet is free, isn't it? Well, not quite. Many sites rely on advertising, and I would think the more members a site has, could only help entice companies to advertise. So increasing membership and increasing donations might be benifical things to do.
I've seen one forum where a donation gets you two free stickers. Not the most enticing thing, but it's something. Maybe a free S-C T-shirt with every donation over a certain amount would work.
One very popular move is making calenders. Maybe pics from these recent contests could be used to make up a calander? The honour of havng your Savage on a calender....well, I would think at least 12 members would buy them....LOL. But seriously, the calendar idea has proved successful on a number of other forums.
Here's a T-shirt example, although I'm sure there's a better pic that could be put on. Does S-C even have a logo? Maybe we need a logo contest....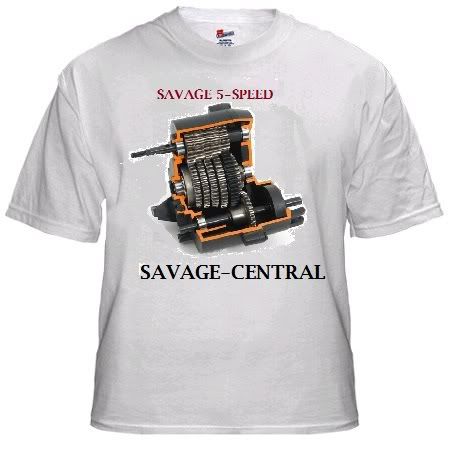 And somewhat unrelated, I made up a pic and only realized way too late, the resolution was not set high enough for a nice destop background....oh well.... But overall, any promotional ideas should be good.
Any other ideas? And after that, I guess it's up to the S-C management to decide if any are feasible.