A while back I posted  
pictures of my 2013 Savage X with all HPI parts
 and said I would just replace things as they break. Well after doing some pretty serious bashing a lot of them broke...
After the truck stopped with the rear wheels seized (which turned out to be because all four screws in the rear diff had broken) I tore the whole thing apart to do some upgrading, and now it's just stuck in a seemingly perpetual "waiting for more parts" cycle.
This is how it stands at the moment: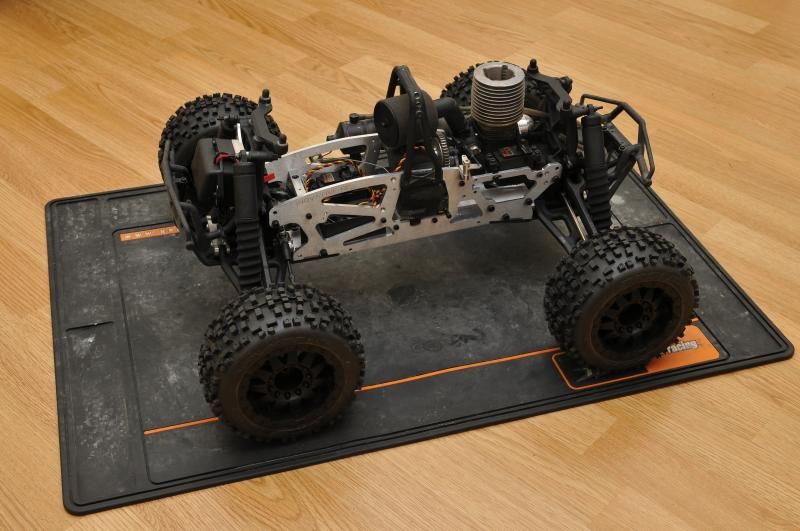 The chassis had been bent right where the tank was mounted, so I replaced it with an
IRC 4mm LCG chassis package
: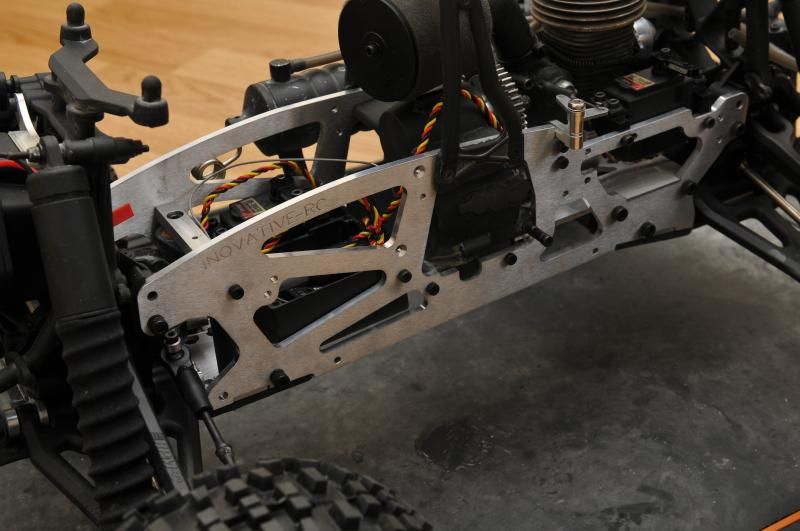 The IRC kit also had a motor plate that I installed since the HD motor plate I had was broken. I also had a hairline crack in the motor mount, so that was replaced with a
GPM motor mount
.
After going through a couple of slipper pads, including the ceramic ones, I installed a
Robinson Racing Gen 3 slipper unit
: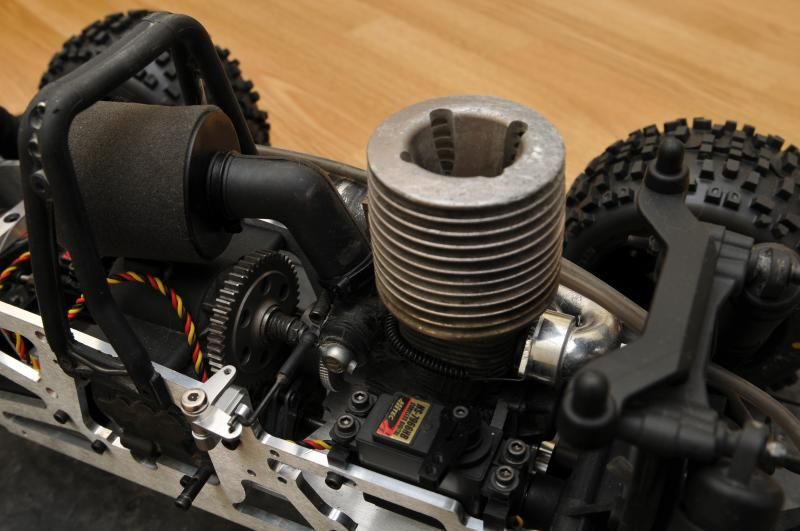 One of the bulkhead braces was broken, so I have replaced them with a
Alza-Racing bulkhead brace conversion kit
: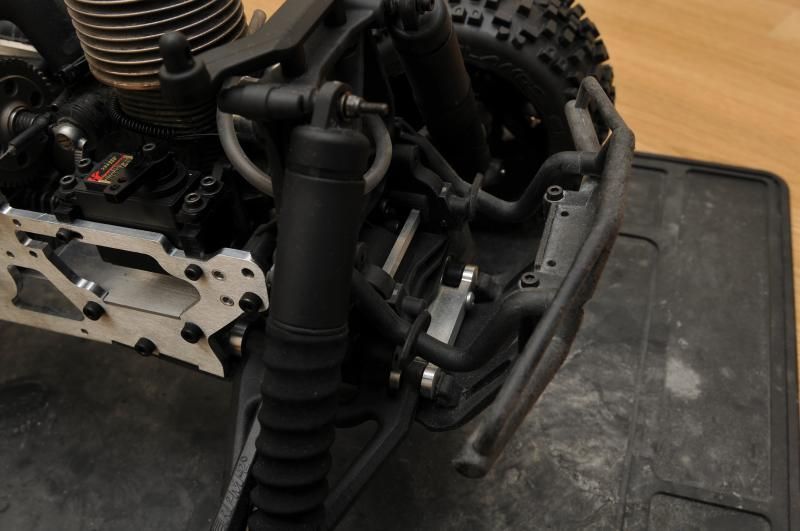 The broken motor plate had pushed the motor forwards and as a result the clutch bell sanded down one of my brake pads. I wasn't a huge fan of the stock pink ones anyway, so I replaced them with two of the older grey ones: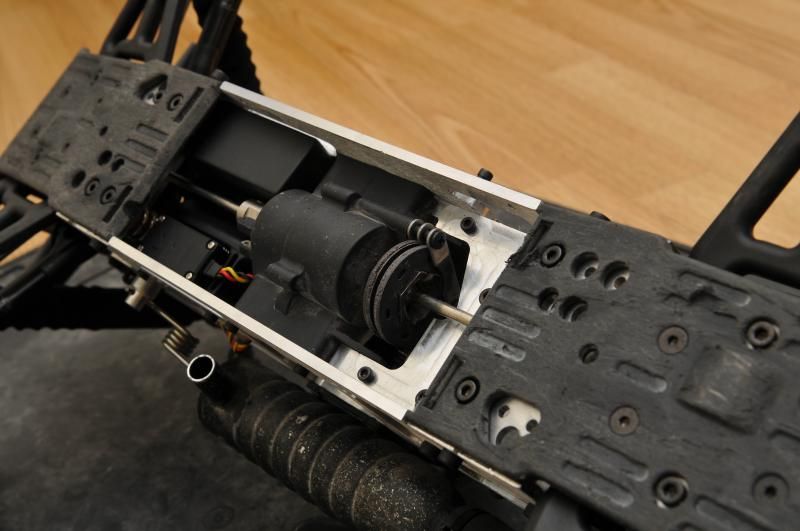 It looks like it will be a tight fit, but hopefully it will work well...
Having broken one of the stock wheels earlier (the center cracked), and not liking the grip of the Super Mudders tires I had earlier on gravel, I replaced the wheels and tires with
Pro-Line Badlands
on
Pro-Line F-11 1/2" offset wheels
:
I'm tired of breaking fuel tanks, so I also purchased an
IRC Pro mid-tank mod kit
with mounts for a Firestorm battery box mount, and Hellfire tank: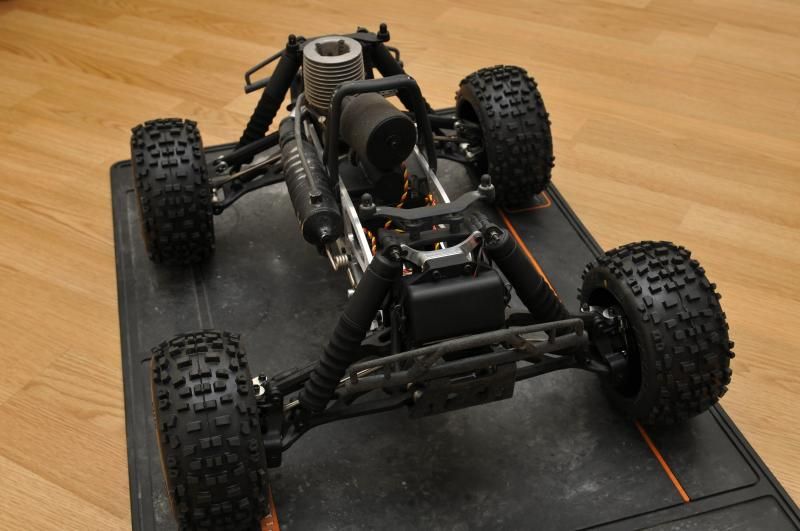 Having the battery box mounted like this doesn't look strong enough to endure the many nose landings my truck suffers, so I'm not going to use this. Currently I'm leaning towards mounting a Vorza receiver/battery box on the side of the truck. With a small modification it should even hold the Li-Fe battery I wish to use, as well as having place for an on/off switch, receiver and other stuff: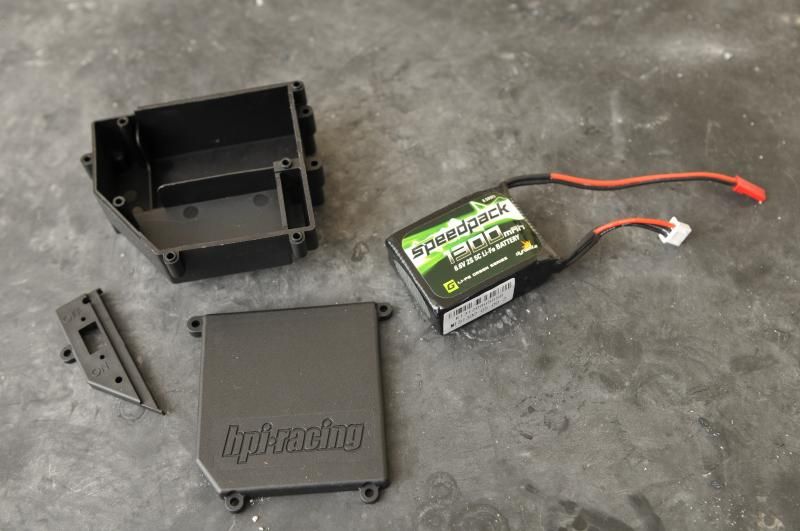 Since I don't use the receiver part from IRC I want to mount the servo underneath the tank plate like LLkoolskillet did on his
Black Beauty 2000 build
, but there is no room for this on the IRC plate because of the cutouts: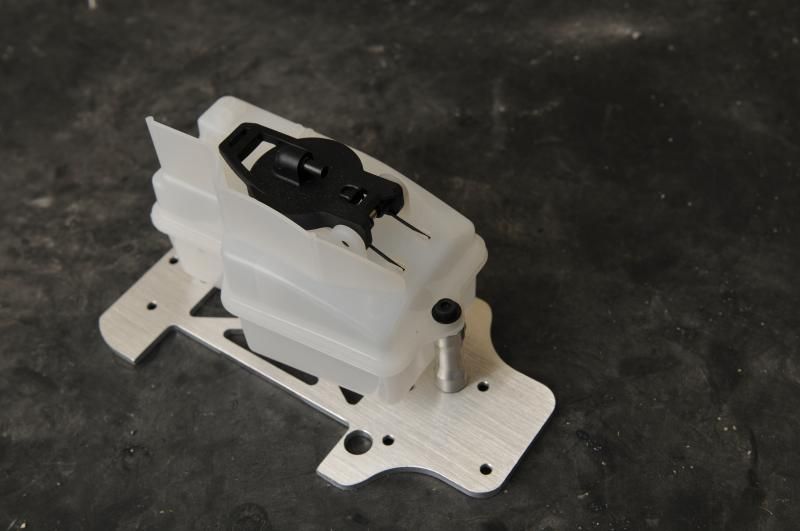 So luckily Dejan at
Alza-Racing
will make some servo plates that have a 2cm extension without any servo cutout that I can use. As soon as those arrive I can mount the tank and look into how I should bolt on the receiver/battery box on the side.
Three of my big bores had bent shafts at the time of dissasembly, and I'm going to mount
Losi Aftershock shocks
on the truck now. Since I couldn't find any of the assembled ones earlier I bought the parts needed and built them with a few hop-ups installed. I used
Hot Racing titanium shafts with jet vent pistons
,
RC Raven dual rate springs
, and
Losi aluminum shock caps
(where I removed the blue color):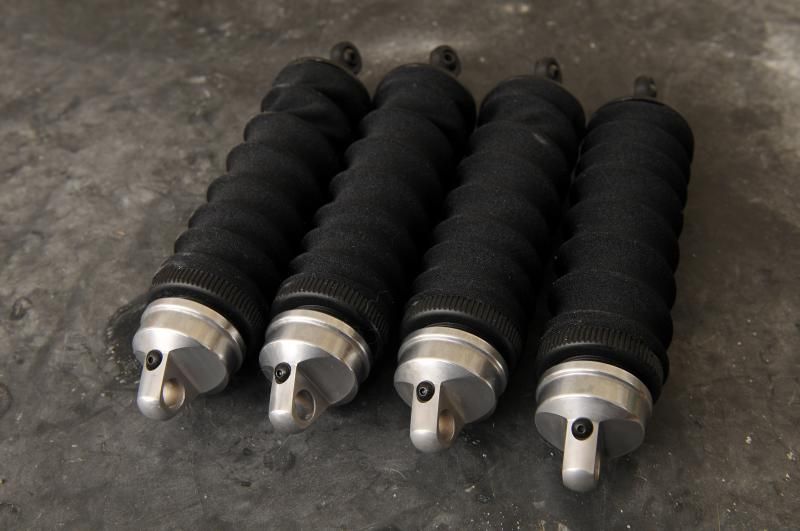 I have an
IRC LST shock mount kit
, but would like to find another way to mount the shocks. Since I also have the
FLM LST2 shock conversion
I'll play around to see if I can find a solution I like better.
The transmission hasn't given me any trouble, but I decided to replace some parts there anyway. I have a spare transmission that I tore down to install titanium shafts and replace the gears with
GPM 7075 gears
: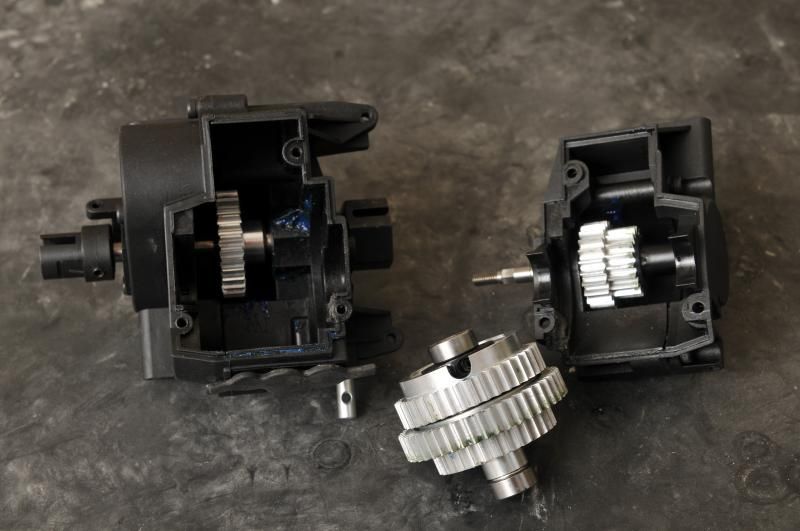 In addition to this I have also replaced all the bearings with
Acer Racing ceramic bearings
. I have used some of these on my Flux earlier, and to be honest these don't seem to offer any real benefit to me, so as they break they will probably be replaced with some standard bearings.
Most of the screws are replaced with screws from
Hexcrews
, but as I now need several different screws than a standard truck I just use whatever 12.9 steel screws I can find...
On the todo list now is cutting the brake & throttle linkage rods and mounting the Ofna stuff I have there, and I will install the tank and servo on the new plate when that arrives.
I don't have a picture of it, but I have rebuilt the diffs following LLkoolskillet's
excellent how to
, with the exeption that I used
GPM steel gears
. Currently I am waiting for some
Hot Racing Hardened Steel Spiral Cut Ring and Pinion Gears
that will be used on them.
With all this I haven't forgotten about the motor and pipe, so I am waiting for an
ERCM pipe
, and an
LRP 30 X engine
.
That is how things are at the moment, but I'll post updates as things progresses. Thanks for looking!