Moderator: Moderators
you could probably fit the scalpel body on it to...
---
---
Savage Extraordinaire

Posts: 5694
Joined: Tue May 17, 2011 11:00 pm
Excited I get to share my truck with more people in the newest edition of RCcaraction magazine  :twisted: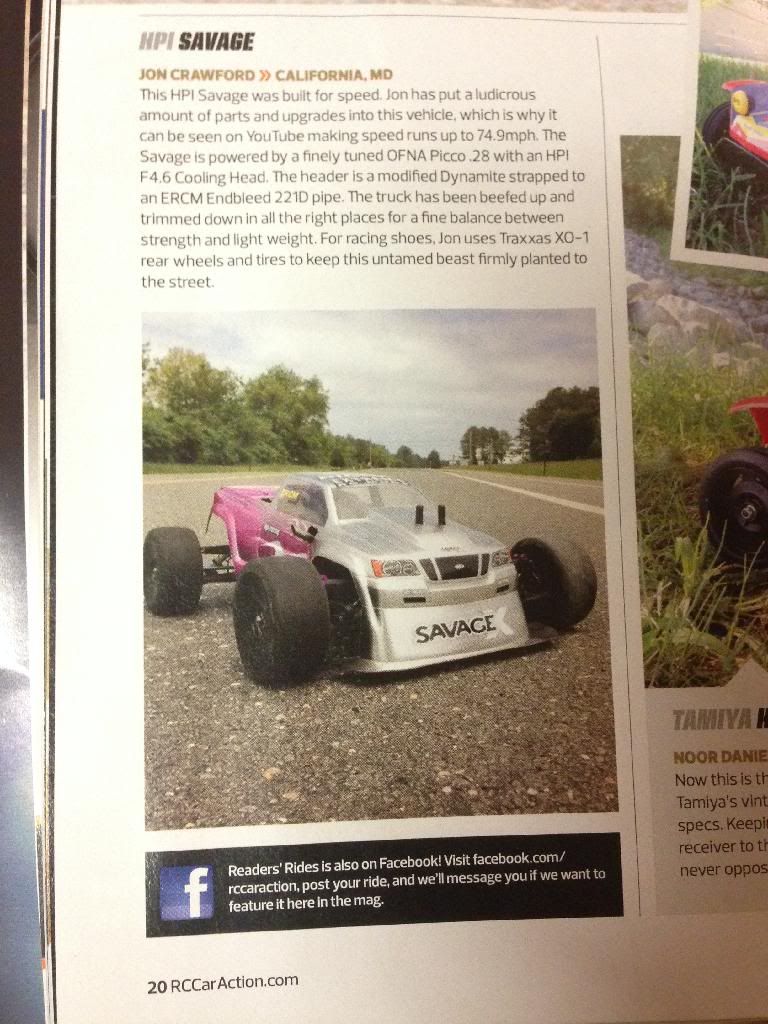 [img]http://i1105.photobucket.com/albums/h358/LLkoolskillet2/skillet1.jpg[/img]
---
---
Savage Superstar

Posts: 338
Joined: Sat Jul 06, 2013 11:00 pm
Location: Gulf Coast Mississippi
Dude, that is friggin awesome. I am so happy for you. I am going to have to go out and see if I can find a copy of that magazine. Wow!!!!!!! What does your wife think about that?
[img]http://www.sleepyape.com/gallery/albums/userpics/10001/SC-Signature.png[/img]
---
---
Savage Extraordinaire

Posts: 5694
Joined: Tue May 17, 2011 11:00 pm
She took a pic and shared it on her Facebook lol. She understands that this is my hobby and she accepts that. She also knows that I'm trying to obtain something that most will never do or much less care to do. I'm having fun and she knows that, she just doesn't like me spending money on parts lol
[img]http://i1105.photobucket.com/albums/h358/LLkoolskillet2/skillet1.jpg[/img]
---
---
Nice, lot of hours in R&D with a project like that I'm sure, WTG
---
---
Savage Extraordinaire

Posts: 5694
Joined: Tue May 17, 2011 11:00 pm
Thank you and yes lots of hours, over 2 years and going
[img]http://i1105.photobucket.com/albums/h358/LLkoolskillet2/skillet1.jpg[/img]
---
---
Savage Extraordinaire

Posts: 5694
Joined: Tue May 17, 2011 11:00 pm
[img]http://i1105.photobucket.com/albums/h358/LLkoolskillet2/skillet1.jpg[/img]
---
---
---
Who is online
Users browsing this forum: No registered users and 4 guests