Hi folks new member here from sunny Socal!  I'm originally from the Los Angeles area, and recently moved to Beaumont!  This area has tons of housing developments, and tons of dirt and mountains...perfect environment for a savage and also a perfect place to get back in the hobby (LA has way too much traffic to be piloting a monster truck)!  I first got into RC' way back in the early 90's.  My first car was an RC10 Stealth Edition (complete with the graphite chassis and stealth tranny).  My second was a Losi JrxT.  I reminisce about those days when I would be racing around the block against my neighbors' grasshoppers, optimas, and Jrx2's.
Remembering how much I loved my old JrxT and RC's in general, I stumbled across the Savage platform.  Last week I bit the bullet and emptied my wallet on a Savage 4.6 SS kit.  I dunno what it is about these days, but most kits are RTR (why is that?).  I wanted something I can build so I can familiarize myself with the kit, in the event that I need to break it down.  Plus, there is always something satisfying about putting something together starting from bags of nuts and bolts.  I'm just waiting for other parts to arrive at my doorstep to begin the break-in process and I am super excited!
Here is a pic of her assembled sans electronics: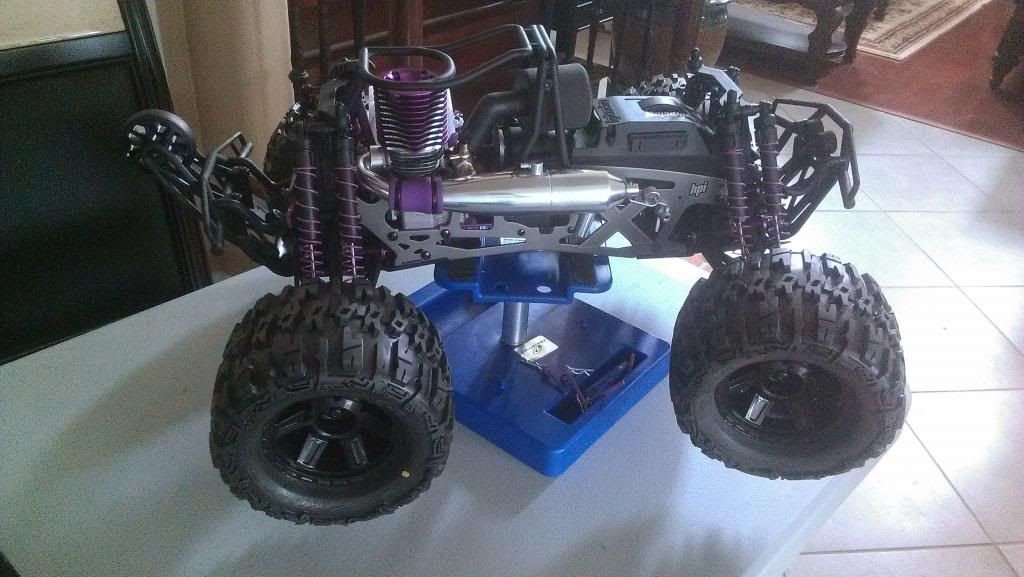 So far I just have the 3.8 trenchers mounted on Desperados, (i'll be hopefully upgrading soon to longer TVP's a 17mm hub conversion, wider axles, 11mm dogbones, and bulletproof diffs).  I really wanted the XL but there were no kits available for the XL only RTRs
 So I figured I would convert everything to XL status minus the 5.9 and the 3 speed. Would the 4.6 and 2 speed be sufficient to power the Savage with the longer and wider chassis?
That should be it on my wish list of upgrades so far. I'm just gonna drive it that way until I need a new engine!!! So far I am loving my Savage! It's great meeting you all and being a new member of this outstanding community!
-Nizzle