Here is a bit of a half assed build thread for my XS I picked up about month or so ago, I was a little on the fence about getting one...did I need one? Nope. Did I want one? Yep lol. We've all seen the stock pics so I wont be posting those. This is more of a parts and work done blog of whats been done.
First off...day I got it I pulled the receiver. Had a spare Airtronics one that came with my MT4 that I figured I would use. Has telemetry, actually I am running one temp sensor to the motor, one to the ESC.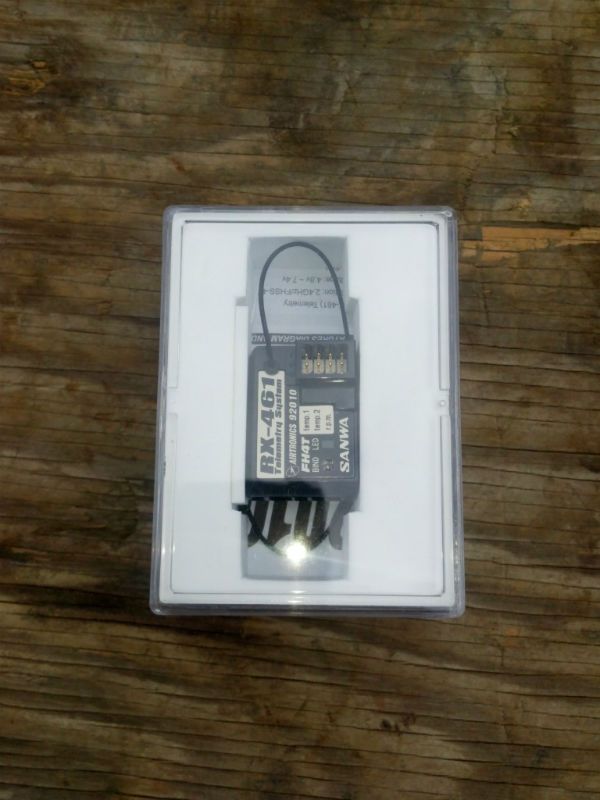 Also swapped out stock tie rods, they were popping off constantly so I got the same Traxxas ones as everyone else.
I didnt like the steering slop, so I ordered the HR Bellcranks and through them in.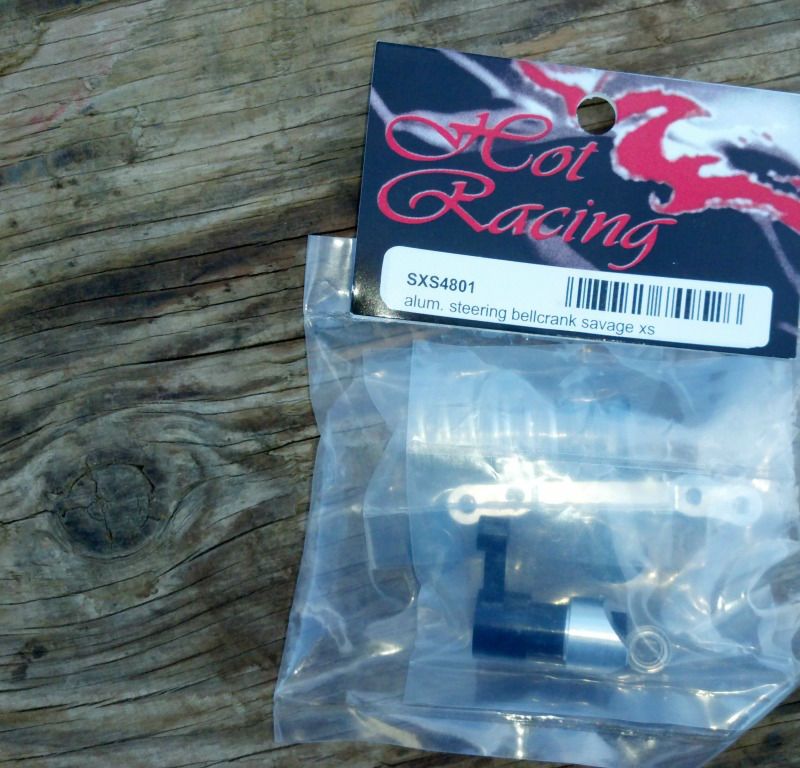 Figured that while I had it half apart might as well throw in a new servo. I bought a couple Hitec 7950's online one night after having a few drinks. They were supposed to be for my Crawler, but as it turns out i forgot I had ordered a couple 7955's for it lol. So the 7950's are spares. Overkill? Yes lol but I might as well use it. Also threw on a Racers Edge locking servo horn on.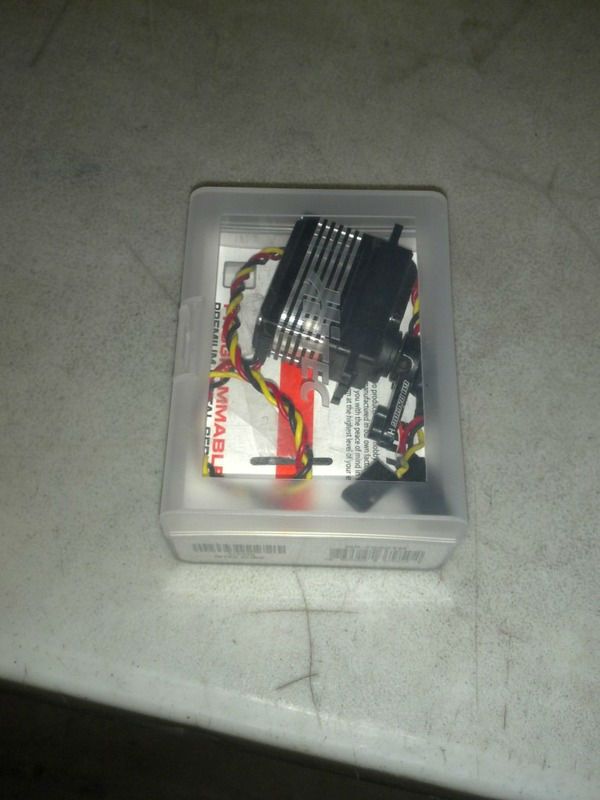 Up until this point I was only running it on 2s. I only broke a couple things, a shock end or 3 after some nasty cartwheels, diff cups and an axle. I knew about the overheating on 3s and once again drunk online shopping lead me to buy a Mamba Max Pro combo with the 4600. I have since sold the 4600, and picked up a 3800. I did change the gearing to 24/60 as well. I also replaced all the bearings on the Mini Me as I call it.
I threw on the Swaybar set, and a set of Masher 2000's I found at the LHS that I put on Axial Wraith wheels. Along with the Wheely Bar. I had also wanted to widen the stance of it, and was rooting through my Crawler box for some wheel wideners. I Had 2 sets of those so I scooped one for the XS. They are RC4WD wideners and just slide right over the hex and into the wheel. Nice tight fit, no play. They are a little heavy but the dont seem to make a difference at all. I will get pics of them seperately if anyone wants to see. Here is how it sits as of that point.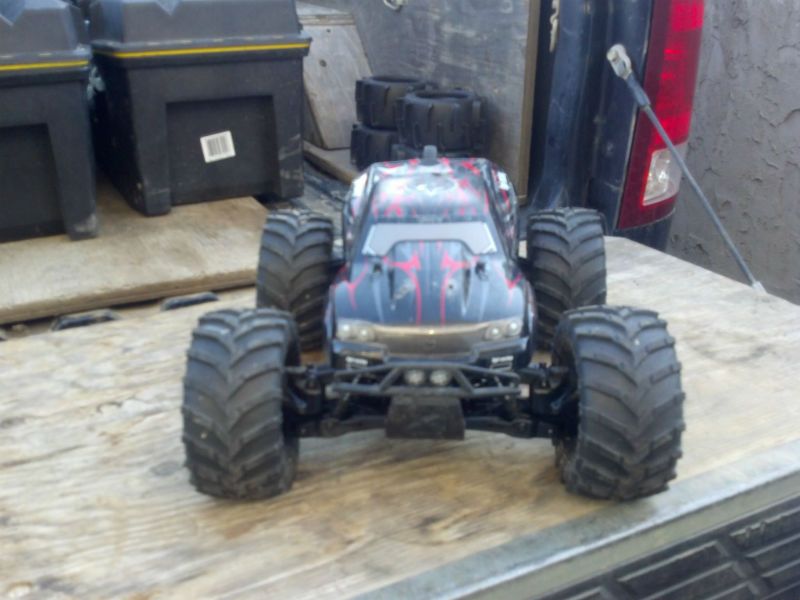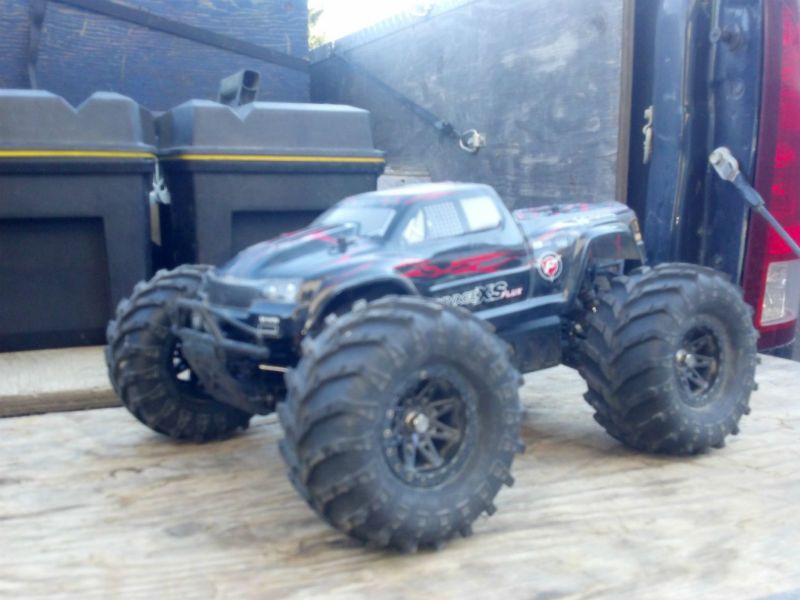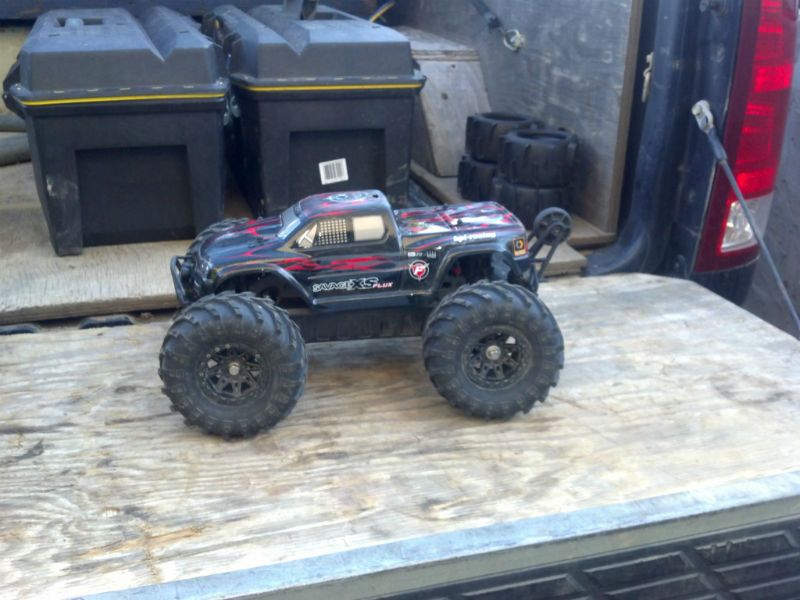 I have seen a pic of a Mini Me with 8 shocks, and thought I should try that, so off to an ebay parts shop I go to order some. And as it turns out my buddy had some Blitz rear shock springs kicking around. I talked him into giving me the soft springs over some drinks. I am still fiddling with the ride of it now, but its coming along. And the Mamba Max Pro with the 3800 came in so that got thrown in. Got a Castle Blower too. I will be putting the stock electronics back in soon just to burn up the ESC so I get a warrenty replacement lol.  So here it is as of right now.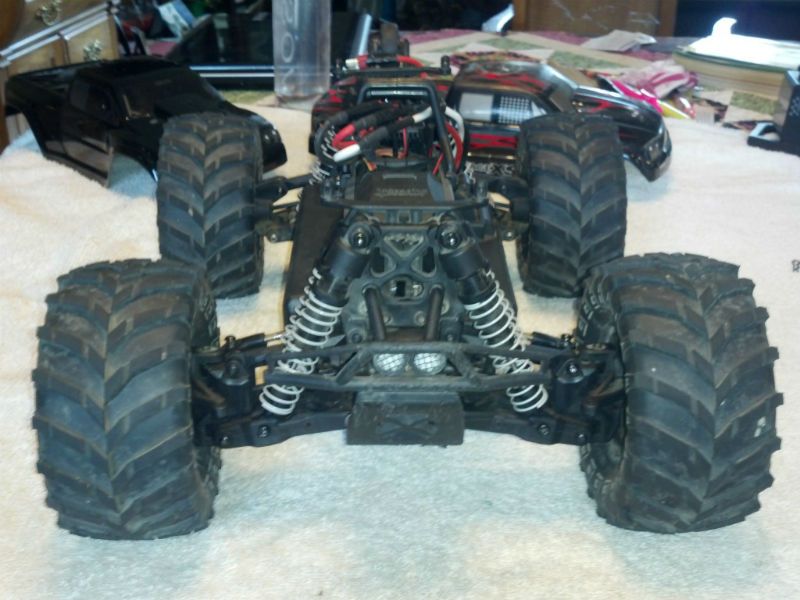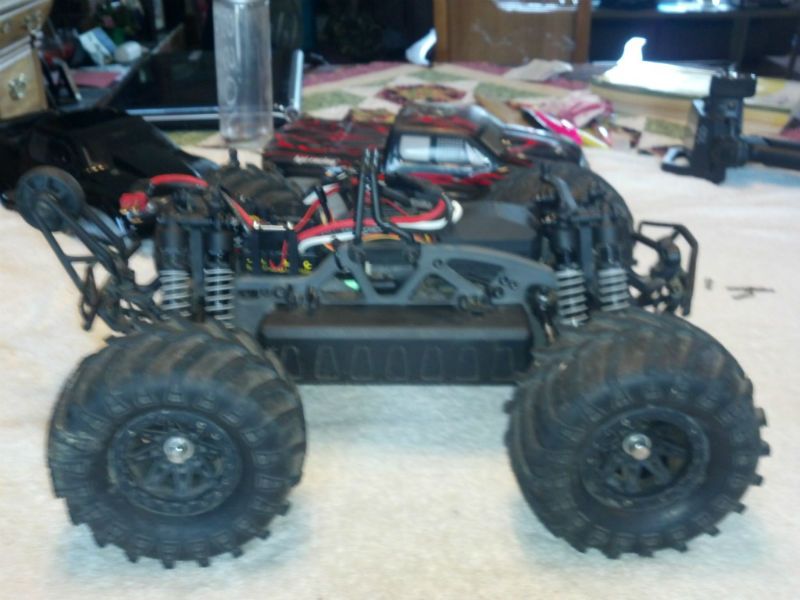 I have a new body for it, It will be posted up later, I painted it last night. but here are some pics of the stock one that has seen better days lol.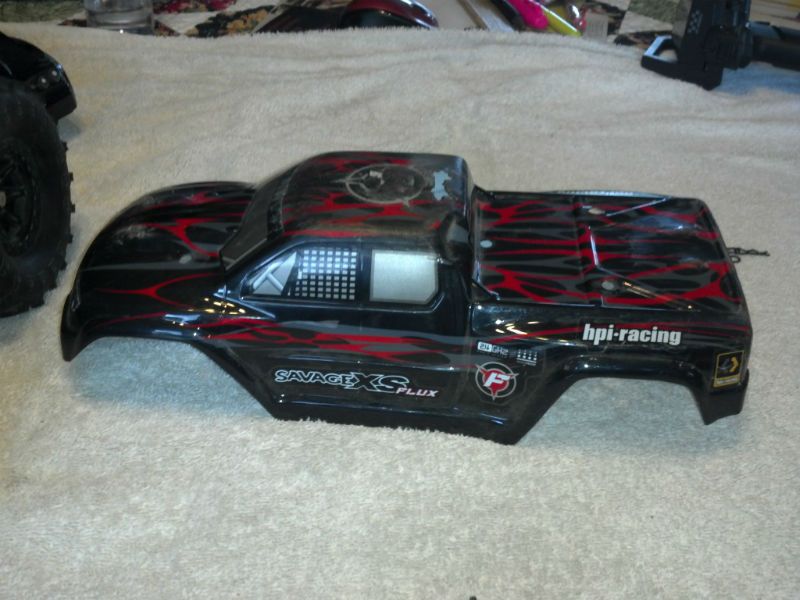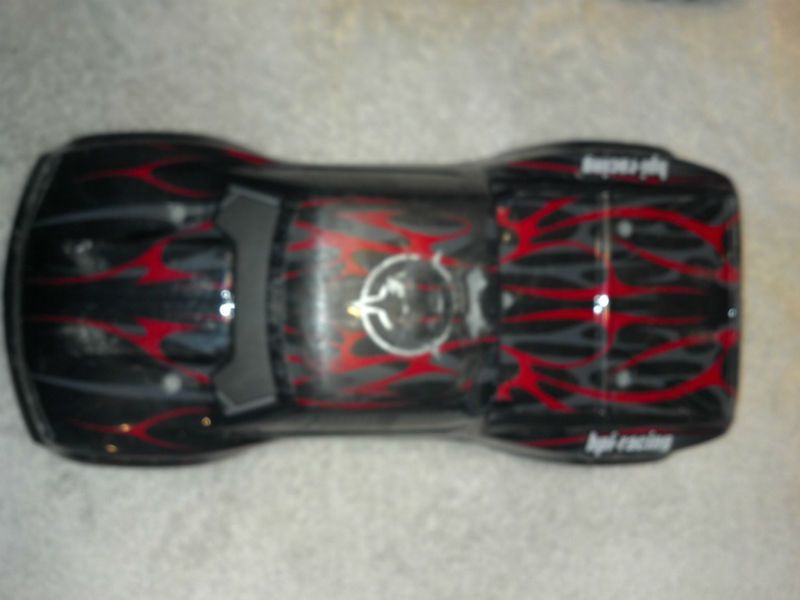 A pic of the batteries....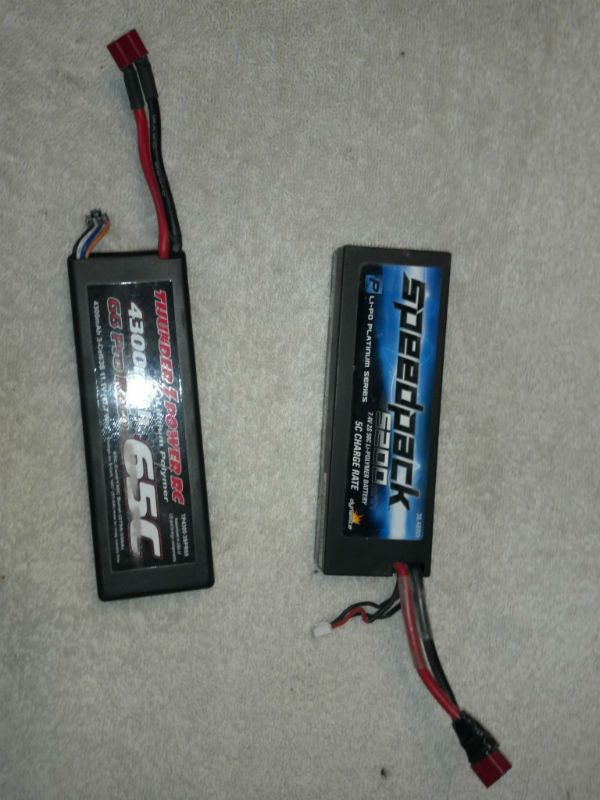 I have also put blitz locking hexes on it, and drill the axles out to take the blitz pin whenever I snap one. No pics of that. I am impressed with the little truck, man does it ever take a beating and come back for more. with the Mamba Max Pro, and 3800 it flat out screams, and temps are staying low, both on 2s and 3s.  2s its fast, 3s is just nutty now! 75ft lid skids on pavement are common lol. A blip of the throttle at over half throttle it will flip it if I am not paying attention. I think with a little practice I may be able to do a standing double back flip on 3s. It does well over one and a half right of the bat if I lay into it right! I love the little thing, its small and can be taken anywhere. It now makes the trip to work with me up in the oilfield to help kill time. It can take a beating. It straight up goes like a raped ape. Ive run it at the RC track, quite fun. Run it on pavement, great for long wheelies and speed runs. It loves the gravel pits, and flying through the air. Its going to be taking a trip to the mountain bike park we have soon, the dirt jumps there are huge, that should be fun. More pics to come later with the new lid, and some closer, clearer shots of the Mamba Combo, Shocks, Tie Rods, Adjustable Upper Arms for ya'll. As well as some action shots and vids. When my buddy gets home next week I will do some speed runs, he has a Bushnell Radar Gun and is quite curious to see what the little monster will throw down on a speed pass.