In an effort to remove all of the purple from my Savage, I have been de-anodizing all of my aluminum parts. I know, I know, purple makes your truck faster.
I have my own theory that says silver makes you truck jump better.
So far it's been working out for me, so I thought I would share this info.
Neither I, or Savage-Central.com will be held liable for any damages or losses incurred as a result of using this method.
DOTHIS AT YOUR OWN RISK
First off, take that parts off the truck and clean them well. All the silicone must be removed from the plates. (you DID seal your diffs didn't you?) If you don't get all the silicone off, this process won't work properly, and you will still have purple under the silicone.
Be sure to wear some old clothes for this project.
Here are all the things you will need.
1. Parts to be de-anodized
2. Easy-Off oven cleaner(yellow can)
3. Rubber gloves
4. Protective eyewear
5. Old brush
6. Some pliars
7. Rinse bowl of water
8. Safe place outside.
Remember, you are using LYE.
8O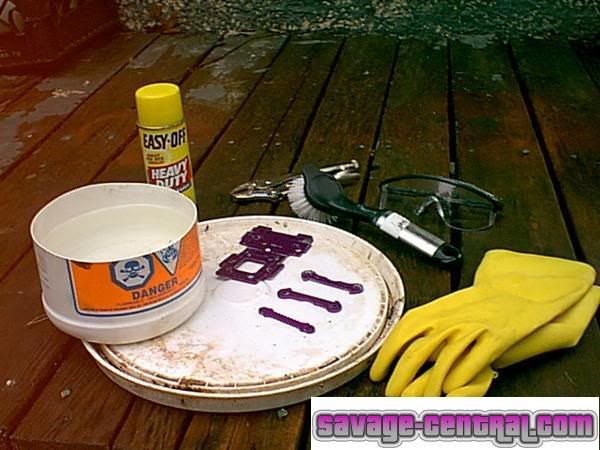 Be sure to wear the rubber gloves and protective eyewear. The cleaner will splatter off the brush and could get in your eyes. (not much fun) And the oven cleaner will burn your skin.
Start spraying the items down real good. It will start foaming. Keep it wet, you don't want it to dry on the aluminum because it will leave a mark. Use the pliars to hold the parts.
Be careful not to inhale the fumes, they are toxic!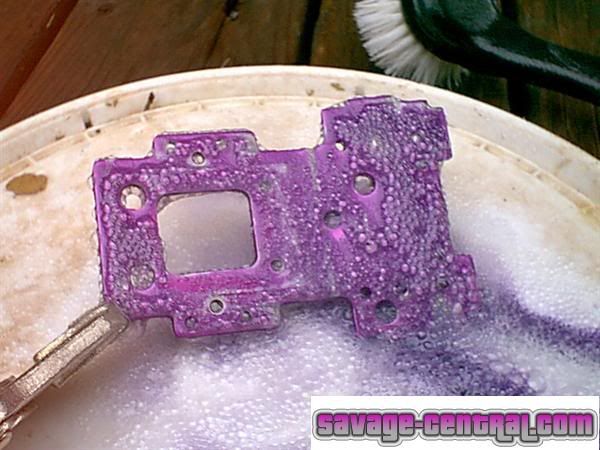 Purple foaming action! Keep spraying it down while scrubbing with the brush. The purple will start to melt off.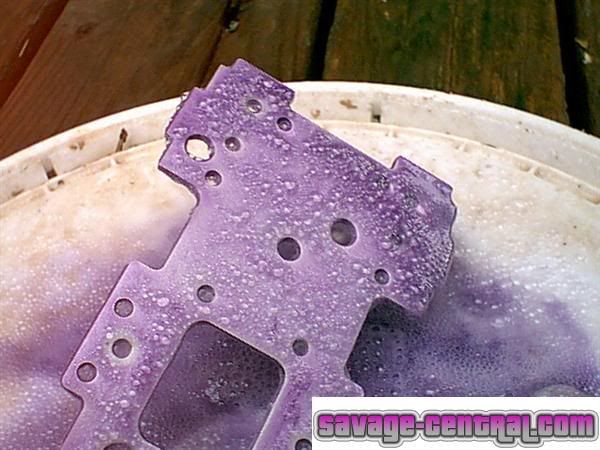 Ready to be rinsed! Rinse off the part in your disposable water bowl, and use the brush to make sure you get it completely rinsed clean.
All parts rinsed, and ready to finish. The bare aluminum will oxidize if it is left bare. Now you can get away with polishing them, but you will need to maintain them with wax to prevent oxidation. That's kind of a hassle, so here are a few alternatives. First, you can brush them up and paint them with some clear laquer. Be sure to let the paint fully cure before you install your parts. Another method to prevent oxidation is to powdercoat them clear. (good idea CRSMP5)
We have a member here at savage-central.com who offers this service.
Click here
for more info. This is the route I will go with when the clear powder comes in. I'll post pics when I have them done.
There is not one piece of purple anything on my truck now. Just black and silver.
This is easy to do, so if you're like me and don't like the purple stuff, just grip it, and strip it!
Scott